I finished a couple of books over Christmas, but I'll spare you the details on the project management one and just give you the better of the two. I had heard fabulous reviews about
Unbroken
from everyone who has read it, so I picked one up for myself and one for my grandfather for Christmas. I hope he likes it.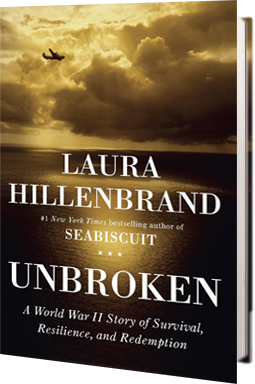 VIA
In
Unbroken
, Hillenbrand (author of
Seabiscuit
, which I never read or saw*) tells the extraordinary tale of Louis Zamperini, a former Olympian who was lost at sea, captured, and survived a Japanese POW camp during WWII. I had to keep reminding myself while I was reading that it was actually a true story, as in
these things really happened
. It gave me a renewed and incredible respect for the men and women of the Armed Forces who served or are currently serving our Great Nation. What amazing sacrifices they make and dangers they face to ensure freedom for citizens of the United States of America.
I'm not big into history reading, but this captured my interest and held it all the way to the end. It's just that compelling - similar to a movie! I feel like perhaps the ending was a bit rushed. (Funny, I felt the same way about
The Hunger Games
, but that, my friends, is another soapbox for another day.) But this is an amazing story of redemption and transformation, and I think you would love it too.
*Not all that into real-live animal movies, which makes it difficult to get excited to see
Warhorse
which
everyone
is raving about.